Very stable and high-quality weighing system based on DMD (Dynamic Weight Determination software). The best weighing result is guaranteed in combination with the TC indicator. This system has no influence on the capacity of the truck and its independent of the load center point and can be used in combination with attachments. The weighing components are built-in protected inside the forklift truck and are insensitive to overload and impact forces and are suitable for intensive and rough applications.
Suitable for all forklifts, telehandlers and construction machines.
Weighing procedure:
Lift the load to a height marked on the mast. The system activated by pressing a button on the indicator and the fork carriage lower automatically 150mm (oil flows via a return line to the tank). The weight is now calculated and appears in the display.
Features
High and stable weighing accuracy
For forklifts with a capacity up to 50.000kg
Weighing procedure not influenced by the driver
Components protected for impact forces and vibrations
Easy installation and calibration
No sensors directly on the mast
Integrated inverter for supply voltage 12-80 volts
Protected against peak voltages
Optional indicator in stainless steel housing
Optional with ATEX certificate
Related Products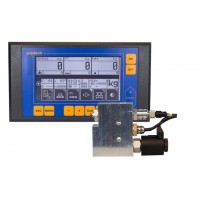 Weighing systems for forklifts
1,000.00€ + VAT